Automation enables enhanced audience engagement and automated insights into results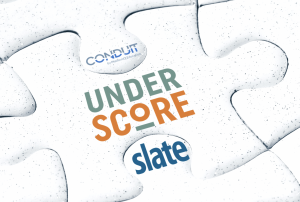 PlatformQ Education, the leading developer of virtual engagement strategies and software and Underscore, the world's first Slate Platinum Preferred Partner, recently announce a strategic partnership to provide data and reporting integration support, powered by Underscore, to institutions leveraging the Conduit virtual engagement platform.
Today, PlatformQ Education is introducing two new enhancements available to Slate customers utilizing Conduit thanks to our partners at Underscore:
Automatic Q-Token Generation
One of the best features of Conduit is it's direct log-in feature that allows an identified prospect to access webcasting and chat content without having to register, log-in or install a browser plug-in or mobile app. The process of generating personalized log-in tokens (Q-Tokens) is now seamless for Slate customers. New prospects or event registrants will automatically have Q-Tokens created for their records with a process developed by Underscore and the PlatformQ Education tech teams. This new enhancement will enable Slate customers to create a seamless experience between students and their Conduit content by automatically generating links for students via email, SMS and landing pages.
Clickstream Reporting in Prospect's Timeline
Beyond attendee data, the true value of online engagement is the insights derived from the interactions between a prospect and an institution's content. Conduit's Clickstream reporting provides a detailed overview of all of the interactions a prospect takes while participating in a virtual event. This includes chat transcripts, documents downloaded, supplemental links clicked and of course presentations viewed. Thanks to Underscore, the Clickstream report can easily be plugged in to the record of each prospect who engages with content on the Conduit platform.
Get Started
Current PlatformQ Education clients using Slate CRM should contact their Engagement Marketing Director to begin the Conduit to Slate Plug-In setup process.
Using Slate but not Conduit? Learn more about PlatformQ Education and the Conduit engagement solution at www.platformqedu.com
Looking to elevate your Slate instance? Learn more about Underscore and their Slate development and implementation services at www.underscorehighered.com
About PlatformQ Education
PlatformQ Education helps colleges and universities virtualize their online engagement strategies. With its suite of products and managed services, including Conduit, Campus Connect live chat, global SMS and email automation, PlatformQ Education enables institutions to meaningfully engage with students, parents, and counselors at every stage of the engagement process. Whether the goal is to increase applications or influence accepted students' decisions, or reach and engage alumni, hundreds of institutions rely on PlatformQ Education to support their conversion and yield goals every day.
About Underscore
As the country's largest dedicated Slate development and optimization company, Underscore's mission is to transform the enrollment landscape by leveraging the power of Slate. Backed by decades of experience, Underscore's team of higher education professionals has worked with more than 60 schools across 30 states to help optimize their Slate instances. Underscore's services include Slate implementation, student search marketing and enrollment communications, enrollment strategy, applications and portals, and personalized training.