PlatformQ Education partners with mission-aligned organizations to build online engagement strategies that support better student outcomes throughout their student journey … around the globe.  Below are our partners that serve students in a variety of capacities. If you are interested in becoming one of our strategic partners, contact our Executive Vice President, Gil Rogers, at grogers@platformq.com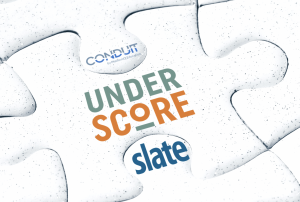 Slate CRM Integration 
Underscore
Underscore, the world's first Slate Platinum Preferred Partner, provides data and reporting integration support to institutions leveraging the Conduit virtual engagement platform. This partnership provides education institutions with seamless access to enhanced webcasting and chat solutions powered by Conduit for audience engagement while leveraging the industry-leading Slate CRM platform.
Enrollment Management and Financial Aid
Ruffalo Noel Levitz
PlatformQ Education has developed a custom offering for Ruffalo Noel Levitz clients in support of their existing application generation and yield strategies. This unique approach combines RNL's market leading enrollment management and financial aid strategies with PlatformQ Education's Conduit software and online engagement planning and execution support.
Association of Presbyterian Colleges and Universities
The primary focus for the APCU is the institutional health of our members. PlatformQ Education impacts this directly by enabling schools to engage students (and families) in familiar ways throughout the enrollment process—and beyond. This not only helps member institutions manage the size and profile of their incoming classes, it ultimately generates additional net-tuition revenue and enhances retention.
Student Access
Strive for College
Strive for College leverages the Conduit platform to execute online chats and webcasts in support of traditionally under-served and under-represented student populations.  In partnership with PlatformQ Education, Strive connects colleges and universities directly to their student audience as well as provides opportunities for enrollment and student affairs professionals to connect and share best practices.